Uluru/Ayers Rock is Australia's national icon, the aborigines' sacred mountain and the largest monolith in the world.
For me Uluru is an extraordinary journey through the never-ending wonder that is nature, filled with unspeakable emotions every step of the way; an inerasable memory and a dream come true.
It has always been at the top of my personal list of favourite destinations, to be seen at least once in a lifetime. It couldn't happen any old way though, oh no! So, I started to think about the most spectacular way in which I could make this dream come true.
Looking on the Australian web I came across several websites which offered a unique camping experience, under the brightest stars you have ever seen. A journey through the real Australia, just like an explorer from the past.
I write to an email address which is telling in itself – lost in Australia – and why not! I also want to lose myself in this sacred place and possibly also find myself!
A travel consultant quickly got back to me and suggested three intense days on board a small bus, to be shared with about 20 people, and a sleeping bag for $20 to be paid locally, because, he explained, the temperature at night falls to below zero and we will be sleeping under the stars without a tent! Everything else needs to be written as it happens.
I see each journey as being therapeutic as it makes me face my fears; fears which I always try and ignore but am forced to deal with on my travels. Insects, all types of spiders, mice of all sizes and unknown creatures and me, we don't exactly get on. My screams have been heard across the continents. As usual, however, my mind totally ignored the fear factor, went into "courage" mode and pressed the "book" button!
Uluru/Ayers Rock is in the Northern Territory, also called the Red Centre of Australia, because of the colour of the soil. This place is truly remote, it is three and a half hours by plane from Sydney, flying over the Australian Outback, which is an incredible reddish-orange expanse of nothingness.
I catch a Jetstar airplane, which leaves Sydney at 10.30 and lands at 12.30 at Connelian Airport, Uluru's airport. The flight is fantastic.
On arrival there's a guide waiting for me, a nice-looking blonde Australian, wearing shorts, a t-shirt and a wide brim hat. For me he is, and will remain, my Crocodile Dundee – he's exactly the same!
My suitcase is the biggest one, of course, as well as being the most noticeable: it's pink! Crocodile Dundee asks me, in astonishment, what's inside it and I reply: "Just the few things I need for my one month stay!" To be honest, I could have stayed a year! I wanted to add that for an Italian the contents of his suitcase are essential on a holiday, you don't want to forget your glasses or your fashionable shoes, you never know! If only he had known that I had already minimised it! His comment, through gritted teeth, was: "Italians!"
My advice to campers is to prepare a rucksack with the few essential things you need just while camping.
I went in August, in the middle of the Australian winter. There's a big difference in temperature between day and night at Ayers Rock. The good thing about going there in the middle of the winter is that there are not quite as many tourists and that you can go on excursions all through the day. There are signs everywhere saying that the Uluru-Kata Tjuta Park and the Watarrka Park, including the Kings Canyon, close at 11 am if temperatures rise above 36°, which often happens during the Australian summer. Only Uluru doesn't close down!
In my rucksack there are: two changes of clothes, a thick winter fleece and short sleeved t-shirts, a woollen hat, a wide brim hat for the sun and a head torch, which is extremely useful when night-time comes. I also brought a North Face jacket, just a few toiletries, factor 50 lotion and sunglasses, because the sun in the desert can burn your skin, bottles of water and just a few other things.
When we arrive at 12.30 the temperature is 26 degrees, t-shirt, summery trousers, trekking shoes, hat and sunglasses, I can't even imagine how cold it will get when the sun goes down.
It's now time to start our journey towards the real Australia, the ULURU-KATA TJUTA NATIONAL PARK, one of the few places in the world where humans haven't changed everything.
This is where I first enter into contact with the Australian Aborigines. Curly blonde hair crowning dark skin, sometimes with incredibly blue eyes, is what my mind sees when I think of the uncolonized people of Australia.
ULURU/AYERS ROCK
A UNESCO Heritage Site, Uluru/Ayers Rock is the sacred mountain of the Anangu Aborigines, who have been custodians of this land since time immemorial – around 10,000 years. They follow the rules of the Tjukurpa, the Sacred Law on which society is founded, which is passed down from father to son. It is seen as lying at the heart of the relationships between the people, the territory and the animals. They speak their own language, which they teach to future generations.
Uluru is the Aboriginal name; it seems that in the local language it is just a name and doesn't have any special meaning.
The name Ayers Rock comes from explorers Giles and Gosse who, in 1872, were the first to reach this area. Gosse gave it this name in honour of Sir Henry Ayers, the Premier of South Australia.
In 1920 the National Park of Ulru-Kata Tjuta was declared an Aboriginal reserve. A 1985 law gave the land to the Aborigines, but on a lease, that is a 99-year rental agreement.
My heart stops when I see the majestic and imposing monolith, what an amazing feeling. I still can't believe it, I have set foot on Ayers Rock, I finally feel I am in Australia!
Crocodile Dundee takes us to the entrance to the Uluru-Kata Tjuta Park, waits for us to get off and advises us to go around the base of Uluru. He asks us not to climb the mountain, as it is sacred to the Aborigines and it's also sacred to me. Yes, it can be climbed, but it's dangerous and that extra selfie won't change our lives, anyway.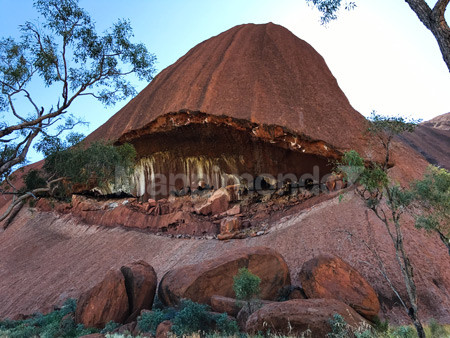 I start walking, almost always alone, for three and a half hours, surrounded by this spectacle of nature, the red rock, which owes its colour to iron oxidation and which changes as the sun changes.
With every step I get a feeling of calmness and wellbeing, it's so silent you can hear the wind, it's a state of surreal peace.
I walk around these rock formations, where you can find water sources and signs of erosion left behind by the rains, which turn into actual waterfalls.
I see caves where generations of men have used drawings to teach the Nyiinka, the country boys, the art of hunting, independence and discipline. To learn all this the Nyiinka are separated from their families, and this reminded me of the stories I had heard about the young Masai, in Africa, who, as teenagers are sent into the savanna alone to learn the art of lion hunting. In two opposite locations these populations choose to "make men" of their sons in the same way.
Once I finish the tour the guide takes us to the Cultural Centre, where you can get a taste of Aboriginal culture and even get to see them.
Finally, we make our way towards one of the SUNSET POINTS, TALINGURU NYAKUNYTJAKU, to watch the wonderful moment when the sun sets and the moon takes over; I obviously take one photo after another. Watching while Uluru is painted in crepuscular colours is an unforgettable experience.
It's now time for the other adventure: going to the CAMPSITE for dinner and working out what's in store for the night.
It becomes incredibly cold; we are down to one degree and it's only 7 pm! I'm wearing my fleece, my North Face jacket and my woollen hat, but it's not enough, I would have put on a sheepskin coat and a few blankets!
Obviously, Crocodile Dundee has to act cool and stays in his shorts and t-shirt. So, you might be cool, but which hemisphere do you think you're in? I'm like Totò e Peppino a Milano and he's like Russel Crowe in The Gladiator! I can't handle this!
The best has yet to come. I find out where I will be spending the night, help! There really are no tents to sleep in!
This campsite has a covered area with toilets and showers, which is where you queue up and freeze, with these temperatures. There's a semi-open hut, which is where we leave our personal things as well as our cooking paraphernalia. There's a sink in which each of us will wash our own dishes. That's right! You cook and you clean, DIY style!
Crocodile Dundee lights the fire we need for cooking, and to keep us warm until we slide into our sleeping bags, which are placed directly on the red earth around the fire. That's right! We're outdoors, the temperature is already below freezing and we are sleeping on the ground.
His plan is to prepare the rice, the potatoes and chilli con carne. He says to me: "You're Italian, I bet you can cook!". I wanted to say: "Yes, but don't tell anyone", instead: "Do you need a hand?". What a question. I was soon busy with a huge pot sitting on top of a crazy fire; I almost burnt my hand, like the soldier Gaius Mucius Scaevola, while stirring away.
Anyway, I don't know if it was the tiredness, hunger or cold, but Crocodile Dundee made a delicious meal.
Around the fire the atmosphere is intimate and friendly. We start to talk about ourselves in turn. I tone down my stories about my life as an Italian shared between Great Britain and Italy, which in Europe everyone thinks is so strange.
Those who choose to go camping don't do it to save money, or at least not only, but are driven by a spirit of adventure, curiosity and love of nature.
For many of my travel companions Ayers Rock is just one stop along a long tour of Australia. A German couple tell us that they left their jobs to start a three-month long adventure visiting the whole of Australia.
Crocodiles feature in the first story, just like we might talk about where to go for a drink or which Netflix series to choose!
The two Germans tell us that when they were in the north of Australia, they thought it would be a good idea to go and bathe in the sea; suddenly, a crocodile jumps out of the water like a missile. I think they would have won a world swimming race they got back to the shore so quickly. Terrifying!
That's not everything, of course! Someone swears they saw a giant spider, a sort of unidentified creature taking up part of the wall. Again, I'm not sure how much is true, I just know that I look around, under and above me. I can still vividly remember my feet surrounded by scorpions and the spider under the shower in Kenya! Petrifying!
As if the crocodiles and giant spider weren't enough, we get to the killer jellyfish. A girl says: "If they don't kill you the sharks will!". As unsettling as watching a horror film at midnight!
Crocodile Dundee tells us we better get some rest, we need to get up in the middle of the night. He finishes by saying: "You don't need me to tell you which animals, snakes, mice, spiders and so on there are here at night".
This is what I was waiting for! He doesn't even need to say anything as someone else mentions a two and a half metre python and an opossum, which, believe me, is just a huge rat. By comparison the dingo is just an innocent creature.
I get into the sleeping bag, which is resting directly on the ground. It's unbelievably cold, I have no gloves and the fire is dying.
In my mind I am being strangled by a snake or attacked by a turkey sized rat, so I seal off my sleeping bag and put up with my claustrophobia.
I don't know when or how I fall asleep but I wake up in the middle of the night. My right hand is so cold it's paralysed, my fingers crack. I warm my hand with my breath, to very little effect.
I hear some noises; panic! I hear some footsteps, something crawling, I don't know! One of us says: "there's a dingo!" The minutes go by but it's like time is standing still. I keep repeating to myself: "The night will be over!". I feel like I am back in the savanna in Kenya, the night never ends and it's only the first one!
It's still the middle of the night when Crocodile Dundee wakes us up and I'm happy to get up, I'd like to run to him and say: "Let me give you a hug,". It's a shame that every bone in my body is hurting and that I'm as slow as a sloth!
The toilets are what they are and cockroaches roam around freely! With temperatures below zero having a shower is the last thing I want to be doing!
We set off to see the sun rise at the TALINGURU NYAKUNYTJAKU SUNRISE POINT. Another memorable view of Ayers Rock, which, as the sun rises looms darkly above due to the sun being directly behind it. Seeing the mountain change colour makes up for the sleepless night.
We have a great breakfast in front of Uluru, in the twilight. We toast slices of bread on a cone-shaped oven and cover them with butter and jam. Croc gets coffee, milk and tea ready. It's so cold it's like breakfast at the Hilton, amazing!
We leave Uluru, but it will always be one of the best memories of my life. We set off on a new excursion.
KATA TJUTA/ THE OLGAS
Kata Tjuta is a sacred site located 40km from Uluru and part of the National Park.
The Olgas gets its name from Giles, the explorer, who named its highest peak, 545 metres, after queen Olga of Wuttemberg.
Kata Tjuta is the Aboriginal name and means "many heads". This is due to its 36 rocky peaks.
The nicest walk is that of the VALLEY OF THE WINDS. It's seven and a half kilometres long and takes hours to walk it, also because of some difficult terrain, but the view between the rocky peaks is incredible.
There are plants and animals in the WALPA GORGE, as wind rushes through the gorge; in the Aboriginal language Walpa means wind. There's a nice walk here, too, but shorter than the previous one.
We set off again towards the new campsite, close to our next stop: WATARRKA NATIONAL PARK.
This second campsite has tents and I opted to sleep in one. General conditions are the same as in the previous campsite: basic toilets, cold and cockroaches. The kitchen also has a semi-open space and we cook our food on a fire on the ground.
Again, I don't sleep much, I can hear all sorts of sounds, but at least I have a roof over my head.
We wake up before dawn, around five o'clock, we get breakfast ready, clean and set off with our luggage towards the Kings Canyon.
KINGS CANYON – WATARRKA NATIONAL PARK
The Kings Canyon is part of the Watarrka National Park, which in the local language means acacia ligulata, the vegetation found throughout the park.
You need to get to the park before dawn so you can reach the summit and enjoy the unbelievable views.
There are walks you can take; I choose one and admit to myself that my choice wasn't very logical. It certainly wasn't the quickest path. We set off together but, because of my passion for photography, I lose the others and I'm left with just one companion.
We climb up steep slopes among the canyons, walking along narrow and dizzying paths: a step lesson is nothing in comparison! I reach one of the peaks and see eagles flying above my head; a priceless experience! It's amazingly beautiful, I'd like to stay there to admire the landscape, I don't want to return to civilisation, I want to live that peacefulness.
The trip ends when we meet the rest of the group. Hours have gone by in the wilderness, having to deal with my usual fears; I've overcome them this time, though!
We set off again for Alice Springs; it takes hours to reach our destination and we arrive late in the afternoon.
Alice Springs doesn't really appeal to me, I already miss Uluru and the Canyons, but I must admit that the thought of a bed and a proper shower are very tempting.
This is where the most incredible leg of my journey through Australia, the one with the most amazing landscapes and where I connected the most with my emotions, comes to an end.
As we know, everything comes to an end, and a new adventure is about to start: for me this means Adelaide and Kangaroo Island.